So have any of my fellow gunslingers been able to finish a 20 round Moxxi tourny SOLO?
I know one can just sit on a roof and snipe the enemies with the bessie for 20 rounds, but i want to know if anyone has done it in a non-cheap, completely legit (no rose omega/shredder shredder) way.
If so, how many times did you die? What was your gear/build/strategy?
If not, what would you use?
I recently tried to do a 20 round Hellburbia without dying, but was killed in round 11 because i was being careless while running around "naked"

. instead of starting at the start of round ten again, i just said screw it, and turned off the xbox, it being 2 in the morning and all. It is tough to concentrate for 100 waves of fighting.
Well anyway here is my setup for soloing Moxxi:
The Gear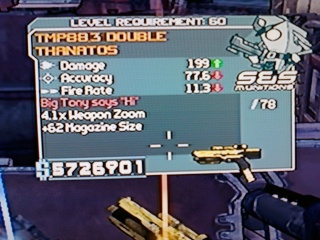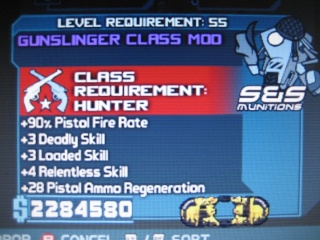 And a Lv61 Incendiary Rain grenade mod
Yes the Nemesis and Class Mod pics are from Alick's shop
The Build
My basic strategy is to use bloodwing for healing, the pearl masher for sniping/quickscoping, the thanatos for spamming/chainkilling with relentless (my horde wave weapon of choice), nemesis for lance/bosses (or anything really), and the firehawk for most skags and bandits.
I always start each non-boss wave at the top of the crates to the left of the boss spawn (curtain). They are in the area with the blue buildings.
I tend to play a little too aggressive and i run and gun, which is probably why i end up dying in the later rounds. i usually run around killing anything that moves, trying to keep those killer and relentless buffs up. I have come to realize, however, that in the later rounds a full shield is sometimes more important than keeping relentless and killer going. Instead of running out guns ablazin', i should let my shield recharge and give myself a better chance to survive. Next time i try a 20 rounder, i'll probably play in little more cautiously and more patiently.
Oh yeah, and I hate Desperados.